Science Fairs – A Life-Changing Experience
Los Angeles County Science Fair winners who participated in the Intel International Science & Engineering Fair (ISEF) competitions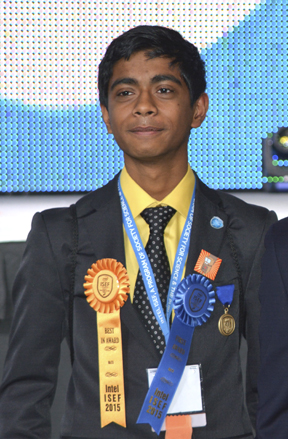 I am Sanath Devalapurkar, a freshman at West High School, Torrance, and I'd like to say this: ISEF 2015 rocked! I had never expected to win anything in the Los Angeles County Science Fair, let alone winning Best in Category at ISEF!
The Intel International Science and Engineering Fair, normally shortened to ISEF, is an international science and engineering fair (as the name suggests) bringing the world's brightest minds from over 78 countries. Since I wasn't expecting to win anything, my mind was geared to making the most of my week at ISEF by meeting people from other cultures and learning about who they were, what their project was, what motivated them to study science, etc. I therefore found the pin exchange an amazing cultural event – I got ninety-five pins (granted, I did have multiple copies of some of the pins…)!
But that wasn't the only thing that I loved about ISEF. In addition to the cultural representation, the variety of sciences represented here was mind-blowing. Out of the 20 categories (including math, behavioral and social sciences, biomed, computational biology, physics and astronomy, chemistry, and 14 more), every single project in every single category was amazing (not joking). Thanks to ISEF, I was able to meet great people from the math category, and in a collaborative effort, four friends I met at ISEF and I started a blog on math!
I don't believe that this would be something I'd be able to do without going to ISEF. I am truly grateful to the LA County Science Fair for simply allowing me to take part in this amazing science fair, since my belief that science (math, to be more precise) is truly what I want to study was reinforced. Thank you all for providing all of these great opportunities to young scientists!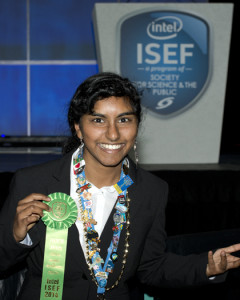 Samantha Wathugala – Palos Verdes Penninsula HS
Even before LACSEF, my senior year research was special to me: it was the first year I'd ever worked in a regulated research institution, the first year I'd been mentored by someone currently involved in research, and, most importantly, the first year I've felt like what I was doing was scientifically relevant. Then, the email that my science research teacher sent inviting me to represent PVPHS in LACSEF made me feel like I'd already won, just having the honor of participating.
A note on LACSEF: The judging procedure differed from any other fair I've attended. Instead of half a dozen ten-minute interviews one after another, a single panel of judges went through each project and then were able to return several times for follow up questions so that they could fully understand each project in the category. At other science fairs, judges usually get only a cursory understanding of your year's work, and sometimes you feel a sting of disappointment when you realize you've forgotten to mention this or that detail; but since LA County was so thorough, I went home feeling like whatever happened come the awards ceremony, I had done all that I could.
At the awards ceremony, I had no special plans but to cheer on my peers and anyone who looked like they had a good attitude. Therefore, my reaction to getting called up for Intel was a simple and astonished "WHAT?!" as my friends shoved me toward the stage.
I used to believe that "things don't happen to me"; that I could be very good at things, but not the best – that was the business of the people around me. But being chosen to go to Intel – that was something that "didn't happen" to me, but it was happening, and it was like stepping into an alternate universe to just step into the room behind the stage after the ceremony where we would hear our first instructions.
Intel had the same quality of being awesomely unreal. Incredibly impressive people (like the founder of Not Impossible) telling us that WE puny high-schoolers are the future? Unreal. Listening to hilarious Nobel Prize Laureates and actually conversing with them afterward? Unreal. Dance party the night before the biggest pre-collegiate science fair in the world with the contestants of that fair? Unreal, and also an amazing idea by the Intel people – we're already prepared after all the fairs we went through to get to Intel, so it was a really nice and needed de-stressor before the big day; I slept really well! Being part of the science fair itself? UNREAL. The scale and scope of the fair itself was just mind-boggling, especially as I'm the kind of person with an appreciation for Secretary-esque organization (which explains my leadership positions in high school). And, of course, meeting hundreds of friendly people from all over the world within a week? Unreal, especially when the person with whom you conversed on the most fatuous subjects on Wednesday ends up walking on the stage to accept award after award on Thursday. They are people, and they are brilliant at the same time. Who would have thought?
Finally, the very, very last part, winning 4th place at the Grand Awards, showed me that, despite my bewilderment at it all, I did somehow belong there in the middle of that crazy amazing unreality.
Science and engineering make ISEF possible, because there is so much out there and so much happening. That week reminded me of the world's beauty, and its hope. I used to wonder if to be happy is to be blind to the world's suffering, but science isn't about blindness; it's about recognizing the problem but also recognizing the potential to fix it. The people of ISEF were serious and precise people, but they were happy people – science had shown them reality, and science had made them capable of smiling at it.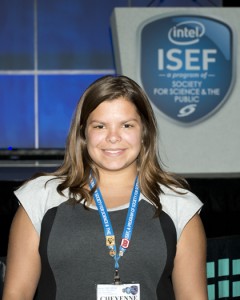 Cheyenne Newallis – San Pedro High School
If you asked me about this time last year anything about science fairs or what Intel was, I wouldn't have been able to tell you. I didn't even fully understand what I was doing when I registered for LA County Science Fair. I was asked if I wanted to participate when I was researching at the Cabrillo Marine Aquarium and I gave a quick "sure" as I rushed off to my weekly research. That "sure" turned in to so many amazing opportunities that I could have never even dreamed of.
Intel ISEF is something so many teens hope to get a chance to go to one day. Going this past year, I can say that it is really incredible. I made so many great friends from all over the world, met some Nobel Laureates, and learned about the projects that teens my age have conducted was incredible. In preparing for ISEF, Misty Mercier and Margery Weitkamp were really helpful and were there for any questions I had about the fair itself or suggestions on my presentation. Talking to the judges, other participants, students, and other special interviewers really helped me gain confidence in my project. The judges were very helpful on offering suggestions to improve my project and make it stronger. My overall experience was life changing and I hope that I get the opportunity to attend ISEF again.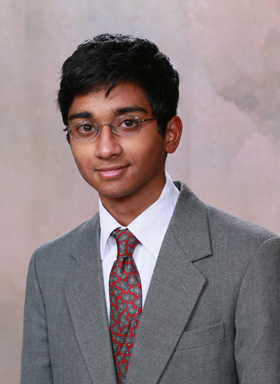 Easun Arunachalam – Crescenta Valley High School

Carl Sagan once said, "Science is a way of thinking much more than it is a body of knowledge." It is this way of thinking that the LA County Science Fair has taught thousands of Southern California students. My participation in the LACSF for the past several years has afforded me numerous opportunities to learn and broaden my horizons. Through my involvement in the LACSF, I have not only been able to meet like-minded peers and learn about their projects, but also meet with and learn from the many scientists and engineers who volunteer their time to be judges at the fair.
My annual search for a project and the subsequent months of research taught me that it is imagination and the desire to discover that lie at the core of science. With each passing year, I learned more and more from my own investigations and the suggestions and feedback I received from my judges at the LACSF. Their encouragement and advice helped me take my project in new directions, and reminded me that research is critical to addressing the challenges that our world faces. Each year, I would come away from the fair with new ideas and a renewed desire to continue my work. The LACSF has not only played a key role in helping me find a path to a potential career, but also allowed me to fulfill a long-standing desire: participating in the Intel ISEF.
ISEF 2013 was unlike anything I expected, to say the least. I had the opportunity to speak with other finalists who were researching the same type of brain tumor that I was, and we discussed our research. It was fascinating to see how people from all across the world approached the same problem in very different ways than I did. But it was the sheer scale of ISEF that impacted me the most. Each of the more than 1500 students shared with the world something they had discovered themselves. The topics of these research projects spanned the gamut, ranging from the design of self-guided automobiles to the development of novel ways to predict metastasis-free survival of cancer. The plethora of ideas that I learned about from my fellow finalists was truly astounding. It was clear that many of the people around me would play a critical role in designing the future. I had many stimulating conversations and made many memories that I am confident will last a lifetime. The highlight of the week-long fair was the humorous panel discussion with four Nobel laureates who shared their experiences with the finalists. My time at ISEF reinforced my desire to pursue a career conducting STEM-related research. I feel fortunate to have had a life-changing science fair experience this year, and I am grateful to the LACSF and its many dedicated and hardworking volunteers who made it possible for me to be a part of ISEF 2013.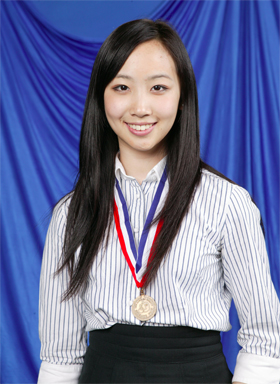 Ellie Hara- Palos Verdes Penninsula HS
Hello everyone. My name is Ellie Hara and I participated in science fairs in 11th and 12th grade. When I started off in 11th grade, I didn't know much about science fair, so suffice to say, my project wasn't anything spectacular.  However, by senior year, I knew that I wanted to try a project more difficult in the realm of chemistry and physics, so I got an internship with The Aerospace Corporation, which is where I did my project.
Honestly, I would encourage anyone who is interested to participate in science fairs because of how many doors it opens for you intellectually.  For me, interning at The Aerospace Corporation showed me how research is performed currently, with all of the procedures and such, and taught me many valuable skills that no class room lab experiment can teach. I sincerely believe this lab experience will come in handy when I start college science classes. Doing science fair also helped solidify the dream of becoming a scientist and helped me narrow down what field I would want to possibly pursue in college.
One of the greatest things about science fair, other than learning about a subject you are interested in, is meeting people around your age who share similar interests. It helps you realize that perhaps it isn't so "nerdy" to want to pursue the sciences. Seeing what other people have researched also opens up new thoughts and gets you to ask more questions. Sometimes, another person's project will be related to yours, and will help you think about your own project from a different angle. Progressing from the local, to state, to international, the projects only got more and more advanced, which also means they become more interesting.
Intel ISEF was one of the most rewarding experiences I've ever had. Meeting people from around the world and seeing what problems they are trying to fix that arise in their own country, was inspiring to say the least. In addition, the panels of scientists speaking to us only showed us more how real it is to be a scientist and how real world problems are belng tackled everyday.  The thought of solving current issues or even just making people's lives easier is more than inspiring enough to drive me to try as hard as I can in my studies. This fall, I will be attending University of California, Berkeley's College of Chemistry, and I can hardly wait to begin my studies and work in the labs. I hope there, my love of science will only grow.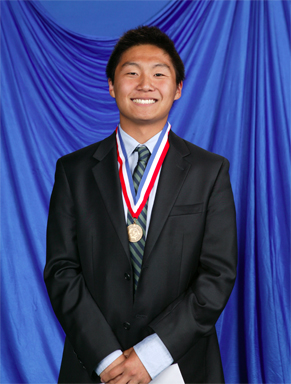 Kenneth Lee – Palos Verdes Penninsula HS
To put it simply, Intel ISEF 2011 was hands down the greatest experience of my entire life.
While I thought the event was fantastic throughout, I personally enjoyed the pin exchange the most. While the event may just seem to be simply exchanging pins with other kids, it meant more. I wasn't just exchanging materials; I was exchanging language and culture with representatives from other nations, some of which I'd never even heard of before.
This same idea was the main reason why this whole event was special for me. Yes, bowling and partying at Universal Studios would be fun with any of my friends back at home. Doing these same activities with kids from all over the world, however, made these more meaningful than I could have ever imagined. While I can always look back at the fun times I had with other kids, I cannot possibly overlook the dedication of the LA County Science Fair officials and their contributions to making our experience what it was. Mr. Gilbert, Mrs. Weitkamp and Mr. Reuter truly made me feel both informed and comfortable with what was going on at the event. Without their help, I truly could not have had such an extraordinary time, and could not thank them enough for their efforts.
Beyond the awards, the money, the honor, and the recognition, however, ISEF was an amazing celebration of the top scientists from over 65 foreign nations. I've never been so in awe of science, and I've never been more excited to further explore what it has to offer.
I really hope I get the opportunity to attend again next year. But it not, I can walk away a more than satisfied young man with many invaluable experiences from ISEF 2011.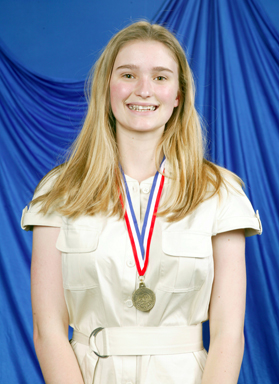 Kathleen Maguire – Marlborough School
My week at ISEF and my involvement in the L.A.  County Science and State Science Fairs will be the highlights of my high school career.  Participating in research deepened my understanding of the science I learned in the classroom, helped me determine what career I want to pursue as an adult and allowed me to learn how to work in a professional setting while still in high school, I have loved participating in the recent science fairs because it gave me a chance to showcase work to which I have dedicated so much time. Judging during the fairs was not intimidating, rather it was enjoyable because it gave me the opportunity to explain my work to others in my field, individuals who appreciated and understood the importance of my work. The feedback the judges offered will be useful as I continue my research.
During my week at ISEF, I met high school students from around the world, ate dinner with researchers who lived on the other side of the globe, and listened to Nobel Laureates. I can never forget the amazing projects I saw or the friends I made. I made clouds in a jar in a hotel room, listened to songs produced from a pair of drum pants, and found myself interested in projects involving spiders despite my fear of them. At the awards ceremony on the final day I knew that I was among researchers who would grow up to cure diseases and win Nobel prizes.  Deciding to participate in the Los Angeles County Science Fair was one of the best decisions I have ever made.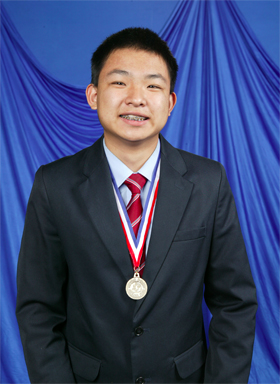 Kenny Lei – Walnut HS
It was a life changing opportunity to participate in Intel International Science and Engineering Fair, especially when it was held in Los Angeles.  Each experience had been eye-opening and unforgettable.
Attending ISEF was exciting and rewarding for all the hard work I had put into my science research project. As the local host, the Los Angeles Team represented USA on the opening ceremony along with representatives from 65 countries. The experience of meeting other avid students interested in science was enriching and encouraging. I enjoyed interacting with participants from all around the world and exchanging pins with them during the first night.  The participants of ISEF who had started out as strangers, but by the end, have become close friends with bonds strong enough to last the long distances and years ahead.
For many years I have known that I wanted to be a scientist, and my own project in robotics and programming, as well as avid involvement in energy conservation across the globe, has given me an enormous passion for computer science research. Nothing, however, quite compares to the experience at ISEF. The format of the ISEF permitted me exposure to student research in virtually every discipline in science and engineering. I walked away from each poster impressed not only by what I had learned, but what I had been exposed to. I suspect that few scientists have the privilege of such interdisciplinary exposure, particularly at such a young age. I was taught that research was enormously rewarding and that bold ideas were an essential element of good science.
While ISEF has brought all the serious and dedicated young scientists together, there were also opportunities for us to enjoy ourselves and simply have fun. This was best exemplified in our trip to the Universal Studio and LA Live attractions after we presented our projects to a wide audience. It was well deserved fun time with newly met friends.
While it was very exciting for me to be presented the Excellence Award from U.S. Army at ISEF Special Award Ceremony, it was the people I met, the lessons I learned, and the new perspective I formed that made ISEF an unforgettable part of my life.
It has been such an honor to be a part of ISEF 2011 and I want to thank L.A. County Science Fair for making this opportunity possible. The experience has confirmed my interest in science and has inspired me to pursue a career in computer research beyond college. I cannot wait to represent Los Angeles County Science Fair again next May in Pittsburgh!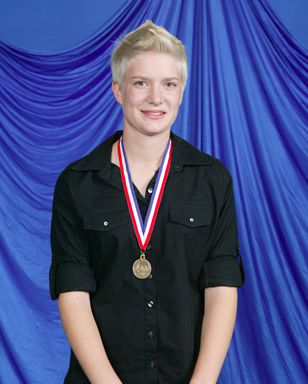 Adrienne McColl – San Pedro HS
Participating in the L.A. County Science Fair was one of the best decisions I made during my high school career. Not only did it give me further opportunity to participate in higher level science and engineering fairs, it gave me the chance to meet so many awesome people who also are interested in science. Many of them are now very close friends of mine! It is a ton of fun and also helps develop professional skills.  Science Fair encouraged me to pursue my interests with intentions of changing the world.  It's not impossible! I would highly recommend participation in science fair at any and all levels.  I plan to continue my involvement by volunteering for Intel ISEF in 2012 and, time permitting, the following years.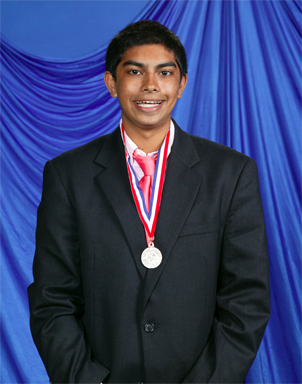 Manu Vaish – Palos Verdes Penninsula HS
My experience at Intel ISEF was one of the best weeks I have ever had. Although I came in expecting a normal science fair, I was exposed to something much more. It was like taking a vacation to one of the nicest areas in the world, even though it was in my own backyard.
The most rewarding part of this journey, however, was not the massive amounts of free food (although that was a large plus) but instead, meeting all the other scientific minds of my generation. Luckily for me, I was able to bond with a student from Puerto Rico who strangely enough was working on the same species of jellyfish and the same organ.  Through our shared enjoyment in jellyfish anatomy we were able to create a friendship that transcended our language barriers. Although we were unable to communicate about everyday life, we had no issue discussing whether the rhopalia of the jellyfish could discriminate color or not.
Overall, taking p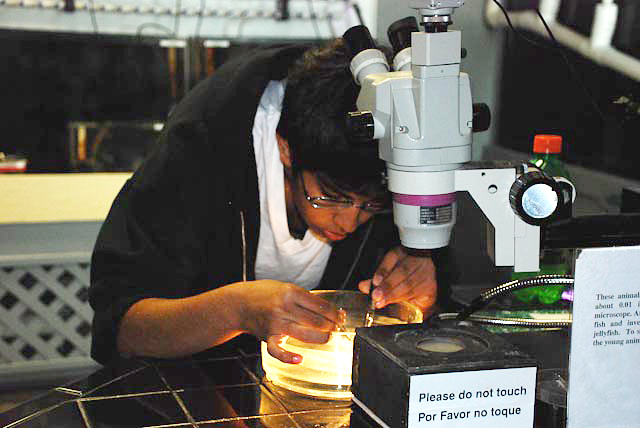 art in ISEF has given me the opportunity to make friends from every portion of the globe and these friends are not just ordinary friends, for each and everyone of them will rise to become the future leaders in their respective countries.
Finally, I would like to thank L.A. County (Science Fair) for providing me with this amazing experience to just be able to attend, for it has made a profound impact on expanding my scientific view of the world. Also I would like to thank everybody on the L.A. County team for making this experience so easy to enjoy with all their commitment to making sure everything moved smoothly.