When:
February 24, 2016 @ 8:00 am – February 26, 2016 @ 9:00 pm
2016-02-24T08:00:00-08:00
2016-02-26T21:00:00-08:00
Where:
LACSF website
http://www.lascifair.org/registration/
Contact:
Jennifer Moses
323-496-6797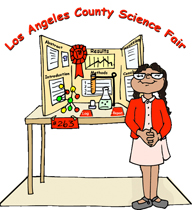 Deadline: Site Coordinator verification of student participants. 
Please double check you only have 13 projects listed, with a maximum of 3 team projects.  Each team can only have a maximum of 3 students per team.  ALL MEMBERS OF THE TEAM MUST COME FROM THE SAME SCHOOL.  A Site Coordinator must oversee the work his or her students do- this is not possible if a student attends another school.
Make sure all school participants have pre-approved certification for projects involving tissues/cell lines, human subjects, vertebrate animals, hazardous materials and/or microbes.