When:
March 27, 2015 @ 8:30 am – 3:00 pm
2015-03-27T08:30:00-07:00
2015-03-27T15:00:00-07:00
Where:
Pasadena Convention Center
300 East Green Street
Pasadena, CA 91101
USA

Contact:
Emily Hoffman
626-833-3501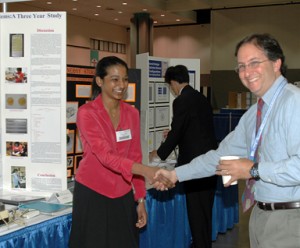 Judging will occur on one day only, Friday, March 27th, from 8:30am up to 3:30pm, with all students given face-to-face interviews. There are 38 categories for student exhibits, Junior or Senior Division.  Preliminary interviews with all students, in each category, will determine the semi-finalists; second-round interviews, along with judging team deliberation, will lead to the selection of 1st, 2nd, 3rd Place and Honorable Mention winners. Judging for Special Awards will also take place on Friday, March 28th, between student interviews.
FRIDAY, MARCH 27, 2014- Judging and Student Interviews
8:30 am–                         Students arrive at the Exhibit Hall A/B

Students scan/setup items for judging quickly

8:55 am–                         Students permitted to enter the Exhibit Hall A/B

Student interview in 8 min. windows

9:00 – 11:45pm          Judging and Interviews- Exhibit Hall A/B
Every Student must be present at their project board during their scheduled interview!
There are scheduled interviews and scheduled breaks by category for students to attend the Interactive Exhibits in the Conference Center
11:45 – 1:00pm            Lunch begins (staggered by categories); caucus with panel
1:00 –  3:30 pm          Afternoon Judging – students sit by projects for duration

3:30 or earlier             Students are dismissed by their judging panel and may depart  from Exhibit Hall A/B. Must exit the Exhibit Hall
Please see "The Interview" webpage for tips and attend the 20 minute the "Nine Quick Tips" Workshop on March 26th (on Setup Day only.)