Check here regularly for news articles on the 2015 Fair and its participants.

  Also check us out on Facebook, Twitter and Instagram!
West High sophomore youngest first-prize winner of EU Contest for Young Scientists
Click here for an interview with our own Sanath Devalapurkar!
---
Congrats to European Union Contest for Young Scientists 1st Place Winner, Sanath Devalapurkar!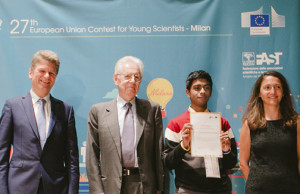 Sanath K. Devalapurkar, 2015 LACSEF top winner in Math is the youngest ever first-place winner of this year's European Union Contest for Young Scientists (EUCYS) and is also the first US student to ever win a First Place! A 15 year old from West High School in Torrance, Sanath won his spot at the EUCYS through his 1st place win while an LACSEF finalist at the 2015 Intel International Science & Engineering Fair.
His mathematics project: "On the Stability and Algebraicity of Algebraic K-theory" was to establish a new perspective on the algebraic Ktheory of exact infinity-categories. If the definition of algebraic K-theory is slightly modified, one can interpret the K-theory of an exact infinity-category as a stable infinity-category, and not as a spectrum. Sanath demonstrated that this formalism significantly simplifies Ktheoretic computations.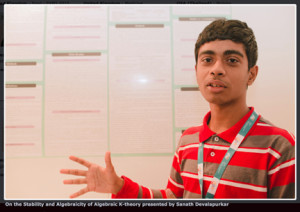 Sanath's First Place project won him $7,836 at the EUCYS and an all-expense paid trip to participate in the 58th Annual London International Youth Science Forum, July 27–August 10, 2016. Here Sanath will collaborate with 300 science students from around 60 countries worldwide. The program, which includes visits to industrial sites and world class research laboratories and facilities, lectures, demonstrations and seminars from leading scientists, highlights the links between individual fields of study and introduces all participants to the latest thinking across a broad range of science.
About the EUCYS: Held this year on Sept 17-22, 2015 in Milan, Italy, the European Union Contest for Young Scientists is an initiative of the European Commission that was set up in 1989 with the goal of promoting cooperation and interchange between young scientists and guiding them towards a future career in science and technology. 
The Contest is the annual showcase of the best projects developed by young scientists in many different fields and from many countries. In fact, the EU Contest gives students the opportunity to compete with the best of their contemporaries at European level, to compare ideas, to meet other contestants with similar abilities and interests, as well as to be guided by some of the most prominent scientists in Europe. This year marks the 27th edition of the contest!
Watch a short video of the event, with Sanath being awarded his prize in Mathematics at about 3:45 in the recording. https://www.youtube.com/watch?v=o9l8WcIu1yw
News Alert on the EUCYS from the European Commission: http://ec.europa.eu/research/index.cfm?pg=newsalert&year=2015&na=na-210915
More on Sanath's wins at the 2015 Intel International Science & Engineering Fair http://www.lascifair.org/the-fair/isef/
Read Sanath's reflection on his Science Fair experiences: http://www.lascifair.org/about-us/student-testimonials/
Meet our Broadcom MASTERS® Finalist!
Broadcom Foundation and Society for Science & the Public (SSP) today announced the selection of 30 finalists in the fifth annual Broadcom MASTERS® — the nation's most prestigious Science, Technology, Engineering and Math (STEM) middle school competition. Broadcom MASTERS (Math, Applied Science, Technology and Engineering for Rising Stars) winners were named on October 6 after completion of a rigorous competition that will test their abilities in STEM, teamwork and collaboration.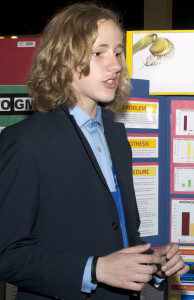 Isaiah O'Neal, a former 8th grader at Portola Highly Gifted Magnet School, Tarzana, California, has just been announced as one of 8 California Finalists who will be attending the 2015 Broadcom MASTERS® event at Silicon Valley, CA. Click here to read about Isaiah's project on the effect of trigger hair stimulation on the ge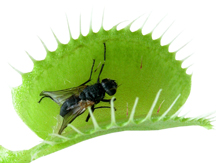 neration of action potentials and their relationship to trap closure in a B52 Venus Flytrap!
Team Marine Trio from Santa Monica HS Featured on Major Environmental Website for their Research.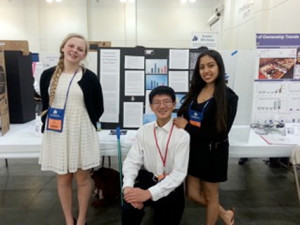 The "Planet Experts" website has lauded Santa Monica High School Team Marine members Martin Liu, Kimberly Fuentes, and Zoe Parcells for winning first place out of 16 teams in the Environmental Management category with their project Cigarette Pollution and Mitigation in Santa Monica, CA. Click here for more information…
2015 Intel International Science & Engineering Fair Rocked!
Our County finalists took home over $16,000 in prizes, two First Places and a "Best in Category" and to top it off, an invite to Italy for the European Union Young Scientists Contest.  Read about their journey in Pittsburg here or on Facebook & Instagram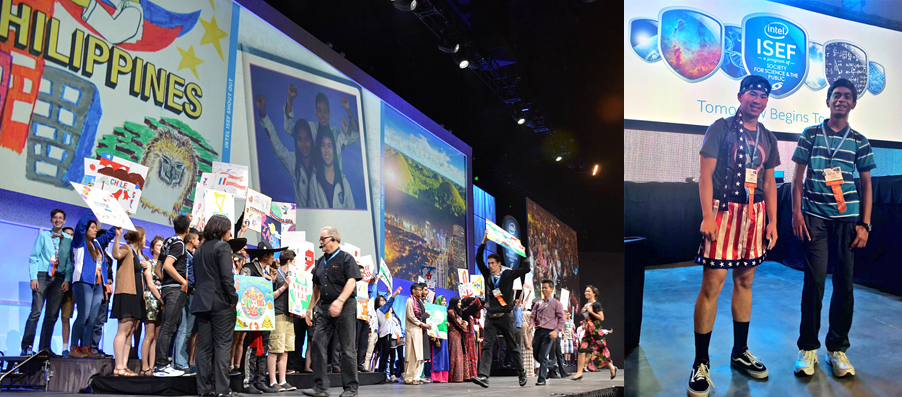 Students, Scientists Mind Meld at JPL Science Fair Showcase
More than 50 students from schools across Los Angeles County took their science experiments and engineering designs on the road on Tuesday for the opportunity to display their work during a science fair showcase at NASA's Jet Propulsion Laboratory in Pasadena, California.
Students as young as 11 filed into JPL's von Karman auditorium, eager to speak with professional scientists and engineers about their projects, which examined questions like: Could a solar oven be an effective cooking tool? How well does the human eye adjust to light? Is hagfish slime an efficient material for cleaning up oil spills? And how do different building bracing systems stand up in an earthquake?
JPL's chief scientist, Dan McCleese, who oversees the laboratory's research programs, met with students about their projects to offer feedback and encouragement. Learn more by clicking here:
---
Local Students Show Off their Science Projects to the Pros at JPL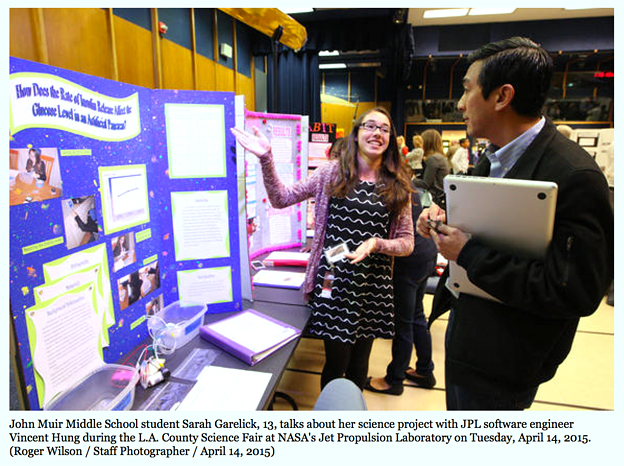 JPL hosts science project showcase featuring works from the Los Angeles County Science & Engineering Fair students.  Click here for more information.
---

Pasadena Unified Students Excel at the Los Angeles County Science Fair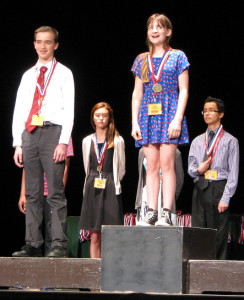 Students from the Pasadena Unified School District (PUSD) had a very strong showing at the 2015 Los Angeles County Science Fair that was held at the Pasadena Convention Center.  Read more here:  http://pasadenanow.com/pasadenaschools/pasadena-unified-students-excel-at-the-los-angeles-county-science-fair/
YOU DID IT!  500 lbs of Food Collected!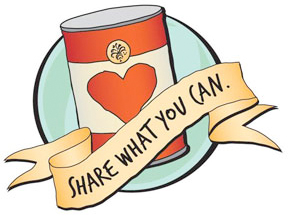 Thanks to the innovative vision of Haleema Abbasi, a sophomore at Beckman High School in Orange County, students brought canned food to steady their project boards and dropped off their cans at the LA Food Bank collections bins during take-down.
We are thrilled to announce that your generous contributions helped the 2015 LA County Scienc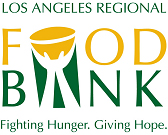 e & Engineering Fair donate over 500 pounds of food to the LA County Food Bank — providing 420 meals to needy families, children and the elderly.  We are pleased to be part of the The Science CAN! Initiative, transforming science fairs into food drives. We are looking forward to continuing this partnership next year, and thank you for your support!
Website designed and maintained by Anne F. Maben –  afmaben@lascifair.org