Fifty lucky LACSEF Students invited by NASA to the JPL Student Showcase!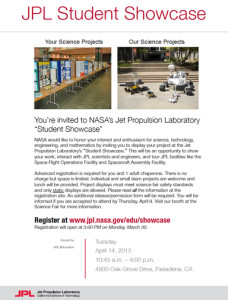 Fifty lucky students who participated in the 65th Los Angeles County Science & Engineering Fair have been invited by NASA to honor their interest and enthusiasm for science, technology, engineering, and mathematics by displaying their LACSEF project at the Jet Propulsion Laboratory's "Student Showcase" on April 14th.  This is an opportunity to show their work, interact with JPL scientists and engineers, and tour JPL facilities like the Space Flight Operations Facility and Spacecraft Assembly Facility.  What an honor!
Bigger and Better!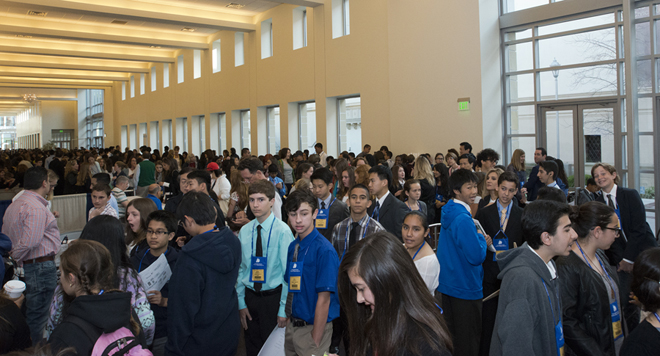 In 2015, as of result of increased teacher training, increased recruiting at under-served schools with high minority populations and the implementation of the Next Generation Science Standards, we have a 26% increase in schools attending the fair over 2014!
The number of teachers trained in implementing and properly facilitating student research has

increased 110%

, with over 200 teachers trained from 91 schools new to the fair, from all areas of the County.
With our strong emphasis on access and equity and teacher training, the number of public/charter schools (vs. private/parochial schools) registered so far this year has gone from 39% in 2014 to 74% for the 2015 fair, reversing the decline in public school participation that began with the recession.
To increase the amount of bright, innovative students entering from schools in impoverished areas, we implemented fee waivers and a sliding scale for high schools this year, allowing Title 1 schools and those with populations of 80% or more of under-represented minorities in science to enter the fair for free.
To make sure that all new students are adhering to federal and state safety standards for experimentation, we created an ONLINE pre-approval site for student proposing to work with tissues/cell lines, human subjects, vertebrate animals, hazardous materials and microbes. This has made the pre-approval process go swiftly, increasing pre-approval proposals for research from around 300 per year to 451 this year.
At our 2014 LACSEF Awards Ceremony, we were able to

double the cash awards

to the pre-recession amount of $100 for 1st place, $50 for 2nd place and $25 for 3rd place.  Students also received over $8,600 cash from Special Award donors in addition to scholarships, paid summer internships, special behind-the-scene tours of technology companies, summer research expeditions, induction to scientific societies and medals and certificates for 909 students.
Check here regularly for news articles on the 2015 Fair and its participants.  Also check us out on Facebook, Twitter and Instagram!
Website designed and maintained by Anne F. Maben –  afmaben@lascifair.org