We congratulate the 2013 Los Angeles County Broadcom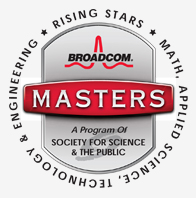 MASTERS Semi-Finalists!

Our seven local winners in the nation's premier middle school science fair are part of 300 semi-finalists vying to become one of the top 30 finalists in the Broadcom MASTERS Competition. Finalists will earn a trip to Washington , D.C. and many other opportunities and prizes.  We wish them luck!  Check out the Broadcom Masters page here.
Francesca C. Legaspi (Grade 6)
Incarnation School, Glendale, California Building Stability during Earthquakes  
David Michael Duncan (Grade 7)
Mirman School, Los Angeles, California
What's in the Food We Eat? Identifying Genetically Modified Foods
Using DNA Analysis
Ethan Michael Uetrecht (Grade 8)
Palos Verdes Intermediate School, Palos Verdes Estates, California
The Effects of Greywater on the Development of the Pieris rapae Butterfly
Dennis Ping Chen (Grade 8)
Ridgecrest Intermediate School, Ranchos Palos Verdes, California
Project-TIM: Identifying the Effects of Thermal Interface Material Relative to the Synthetic Performance of a Silicon Die
Jun Hyuk (Joseph) Oh (Grade 8)
South Pasadena Middle School, South Pasadena, California
Super Solar Cells
Daniel Stephan Yacoubian (Grade 7)
St. Gregory A & M Hovsepian School, Pasadena, California
A Novel Method of Improving Home Solar Panel Output: A Fundamental Concept with Profound Implications
Bridget Jeannette Macmillan (Grade 7)
St. John Fisher School, Rancho Palos Verdes, California
The Effect of Biodegradable Dye on the Evaporation Rates of Salt Water
LA County Students Win Big at Intel ISEF 2013
Link to slideshow of the event
Our own David Zimmerman, 18, from the Brentwood School in Los Angeles won FOUR top awards at this year's Intel ISEF at Phoenix, AZ. David is also the Sr. Sweepstakes winner at the 2013 Los Angeles County Science Fair, the Fair's top award. David's project, Site-directed Mutagenesis of the Metal-reducing Bacterium S. oneidensis MR-1: A Novel Strategy for Genetic Engineering in Recalcitrant Microorganisms, first won $2,500 from the American Society for Microbiology.

Founded in 1899, the American Society for Microbiology (ASM) is the largest single life science membership organization in the world. Members worldwide represent 26 disciplines of microbiological specializations plus a division for microbiology educators. The ASM awards honor the most outstanding microbiology projects.
Next, David won 1st in Microbiology, a $3,000 award.  In addition, David won Best in Category (Life Science) and received an additional $5,000.  The Intel Foundation also awarded a $1,000 grant to the Los Angeles County Science Fair as the affiliated fair that David was representing.
Finally, David won the Dudley R. Herschbach SIYSS Award, and all-expense-paid trip awarded to three finalists to attend the Stockholm International Youth Science Seminar (SIYSS) (www.fuf.org/siyss/), which includes attendance at the Nobel Prize ceremonies, in Stockholm, Sweden in December. The Dudley R. Herschbach SIYSS Award is a multi-disciplinary seminar highlighting some of the most remarkable achievements by young scientists from around the world. The students have the opportunity to visit scientific institutes, attend the Nobel lectures and press conferences, learn more about Sweden and experience the extravagance of the Nobel festivities.
That's a trip of a lifetime for his outstanding research and a total of $10,500 to help to pay his way through Stanford University.  Many congratulations on your difficult and important work, David!!
Link to News Story on David from USC Dornsife: Fair Becomes Excellence
Easun Arunachalam, a 16 year old Senior at Crescenta Valley High School in La Crescenta, won 2nd place and $1,500 in the Medical & Health Sciences category for his Pharmacology Project is entitled: "An Examination of Quorum Sensing Mechanisms in Glioblastoma Multiforme."  Easun's win was particularly impressive since his category is one of the largest categories at ISEF. Easun's work on the most common and deadliest of malignant brain tumors in adults has implications on tumor growth. Easun will be attending UC Berkeley in the fall
Change settings on "cog" icon below to 480 p for best viewing

Easun, we congratulate you on your excellent achievement!

As 1st or 2nd place Category award winners at Intel ISEF, both students' names will be submitted to the International Astronomical Union (IAU) for naming of a minor planet. All minor planets in the Ceres Connection have been discovered by the Lincoln Near Earth Asteroid Research (LINEAR) program, operated by MIT's Lincoln Laboratory, who partnered with SSP and the Intel ISEF to promote science education.
______________________________________________________________
Hands-on Research Critical Element of the New Next Generation Science Standards
Huffington Post

 

May 17, 2013
- Elizabeth Marincola, President, Society for Science & the Public; publisher, Science News
In my role as president of Society for Science & the Public, I'm often invited to speak to the leaders of science fairs in countries that participate in SSP's Intel International Science and Engineering Fair. I'm frequently asked, albeit politely, why the biggest economic powerhouse in the world is doing relatively poorly in the area of science education.
The answer is complicated, but education policy experts generally agree on the culprit: we tend to constrain instructors to teach objectively measurable facts, limiting their freedom to encourage discovery and creativity and instead rewarding them for "teaching to the test." Complicating the picture, each of our 50 states, with different priorities and values for education, controls the structure, funding, and politics of education.
Read the rest of Marincola's Huffington Post blog on the release of the Next Generation Science Standards.
______________________________________________________________
LA Takes Top Prizes at the 2013 CA State Science Fair!
ALEXANDER CHEN, a senior at Palos Verdes Peninsula High School, was named 2013 California State Science Fair Student of the Year and was presented with a $1,000 cash prize!  The project entry was titled "A Foldable Solar Panel with an Improved Hill Climbing MPPT Circuit." Alex's advisor was Mr Peter Starodub.  This award is presented to the high school senior who, in the opinion of the judges, best exemplifies the qualities necessary for success in science.
Click Here to see the list of  Category and Special Award winners from LA County
Press Release
Science Fair Brings Together the Best!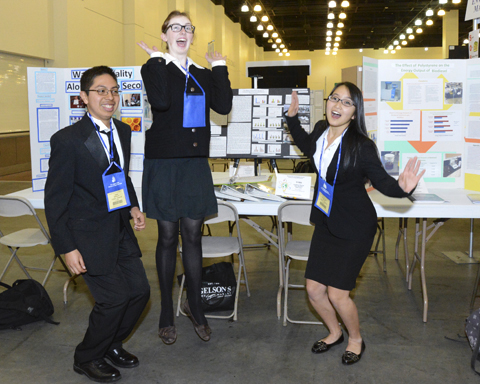 Thanks to the hard work and generosity of a core group of educators and school volunteers, parents, scientists, engineers, business and corporate leaders, including staff from the Los Angeles County Office of Education, the annual Los Angeles County Science Fair was again presented in fine style.  Recent large donations from S.T.E.M. (Science Technology Engineering and Math) companies such as Edison International, SpaceX, Raytheon, Professional Engineers in California Government and the Southern California Gas Company allowed the fair to continue in a tight economic climate.  People around the world from 6 nations and 25 states also made individual donations to support the kind of project-based learning and inquiry approach needed for successful student research.
As Science Fair President Dean Gilbert said: "The essence of a science fair project is solving problems using their critical thinking skills and that is really what the job market, the technological workforce is demanding. We are grateful to all our donors for stepping up at our time of need."
The fair, the oldest and largest event of its kind in the western U.S., brought together some 900 student participants from private and public schools throughout the county during its March 21-23 run at the Pasadena Convention Center.
In keeping with the fair's tradition of lavish recognition, there were scores of medals, special awards and scholarships handed out to those students whose projects were judged as the best in their category.
The fair's top Senior Division winner was David Zimmerman (above), a Senior at the Brentwood School, for his Microbiology project, "Site-Directed Mutagenesis of the Metal-Reducing Bacteria Shewanella oneidensis MR-1: a Novel Strategy for Genetic Engineering in Recalcitrant Microorganisms."  David was also chosen as one of two representatives from Los Angeles to the Intel International Science and Engineering Fair in Phoenix, AZ on May 15-17, 2013.
At the Junior Division level, Abdulkarim Alamad (above), an 8th grader from Al-Huda Islamic School, received the top honor for his Animal Biology project, "Breastmilk + Baby = Autism? Debunking the Theory of Breastmilk as a Contributing Factor in Autism." Abdulkarim was invited to compete in the national Broadcom Masters Competition, along with other top Junior Division Winners.
The sweepstakes winners and other top finishers advanced to the California State Science Fair held April 15-16, 2013 at the California Science Center in Los Angeles.
LA County Science Fair Shutterfly links 

CLICK ON "PICTURES & VIDEOS" ON THE LEFT TO PREVIEW ALBUMS at photographer Anne F. Maben's LA County Science Fair Shutterfly site, for download.Photos have copyrights and for personal viewing and non-commercial use only.
Thanks to all the students, teachers, volunteers, scientists and donor/partners who helped make this year's Fair one of the very best!

______________________________________________________________
News Articles/Videos:  2013 LA County Science Fair
"This year, Team Celestron presented the first-ever Celestron Astronomical Studies Award to a student at the science fair. We certainly weren't expecting to see a project as advanced or impressive as Cameron's! We were delighted to present him with the award, along with a NexStar 130SLT telescope for backyard observing."  3/28/2013  Andrea Tabor
Social Media Coordinator for Celestron.  Read the article on Cameron and his passion for hunting new planets above!
_____________________________________________________________
LA 18 – Asian News Channel Interviews Science Fair Students
____________________________________________________________
PETA (People for the Ethical Treatment of Animals) Gives $1,000 Award to 10th Grader Invents Tool for Earlier Cancer Detection
Click here  to view the full PETA article
_____________________________________________________________
Professional Engineers in California Government (PECG) News Flash
Of about 1,000 student entries reviewed, 60 projects were shortlisted and judged by the PECG Special Awards Team. Their top 10 projects were advanced for further judging for the special awards. These finalists received honorable mention certificates, recognition medals and gift cards from Target stores from the Los Angeles Section of PECG. A photo album with pictures covering the science fair activities, student projects and awards will soon be available for viewing on the LA Section website at www.lapecg.net. After further
evaluation of the 10 finalists, the judges came to a tie vote on the winners and thus decided to split the two special awards as follows:
Click here to download the full PECG article.
_______________________________________________________________
Click here to download: Santa Monica High School's "Team Marine" Wins First Place in Environmental Management at LA County Science Fair
______________________________________________________________
Edison International Rescues the 2013 Los Angeles County Science Fair!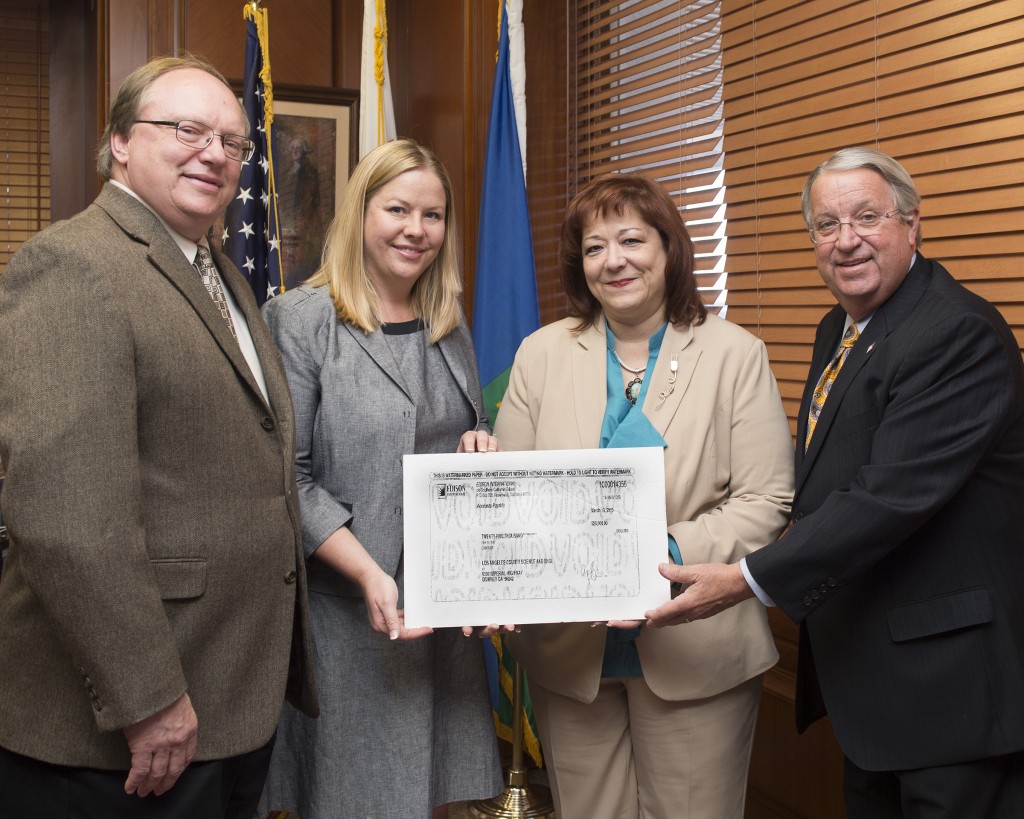 Thanks to a $25,000 donation from Edison International, the annual Los Angeles County Science Fair is promising to be successful once again.
"Edison International is committed to supporting students by giving to programs focused on Science, Technology, Engineering, Arts and Mathematics (STEAM) who are pursuing their dreams of becoming scientists. This grant is an investment in our community and our future workforce," said Tammy Tumbling, Director of Philanthropy and Community Investment for Southern California Edison, a subsidiary of Edison International.
The 63nd Annual Los Angeles County Science & Engineering Fair centers on the theme of "Discovery consists of seeing what everybody has seen and thinking what nobody has thought"- Albert Szent-Gyorgyi
"We are looking forward to another successful fair," said Dean Gilbert, President of the Los Angeles County Science Fair. "We are grateful to Edison International for stepping up at our time of need."
_____________________________________________________________
News Flash! Southern California Public Radio interviews student and LA County Science Fair President.
The "Take Two" radio show on March 15th highlighted the fair's current budget shortfall and the importance of science fairs in helping students learn to solve problems using their critical thinking skills, which is really what the job market and the technological workforce is demanding. Click here to read or listen.
_____________________________________________________________
News Article: "The LA County Science Fair Needs Your Help!" – check it out here
_______________________________________________________________
Website designed and maintained by Anne F. Maben -  afmaben@lascifair.org