Students, Scientists Mind Meld at JPL Science Fair Showcase
More than 50 students from schools across Los Angeles County took their science experiments and engineering designs on the road on Tuesday for the opportunity to display their work during a science fair showcase at NASA's Jet Propulsion Laboratory in Pasadena, California.
Students as young as 11 filed into JPL's von Karman auditorium, eager to speak with professional scientists and engineers about their projects, which examined questions like: Could a solar oven be an effective cooking tool? How well does the human eye adjust to light? Is hagfish slime an efficient material for cleaning up oil spills? And how do different building bracing systems stand up in an earthquake?
JPL's chief scientist, Dan McCleese, who oversees the laboratory's research programs, met with students about their projects to offer feedback and encouragement. Learn more by clicking here:
---
Local Students Show Off their Science Projects to the Pros at JPL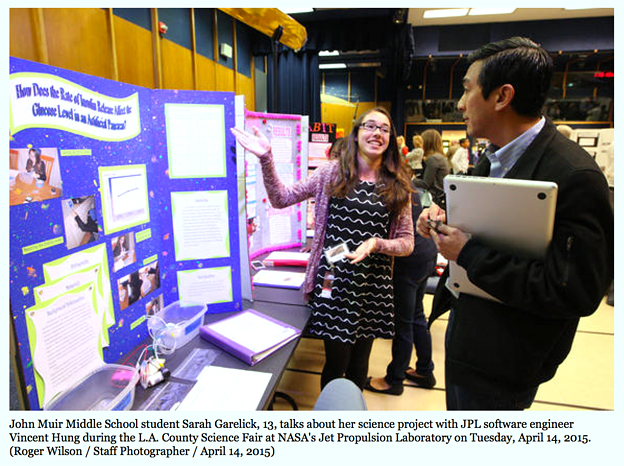 JPL hosts science project showcase featuring works from the Los Angeles County Science & Engineering Fair students.  Click here for more information.
---

Pasadena Unified Students Excel at the Los Angeles County Science Fair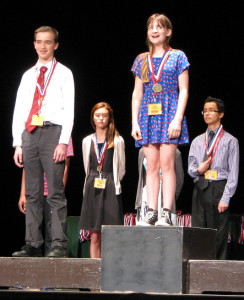 Students from the Pasadena Unified School District (PUSD) had a very strong showing at the 2015 Los Angeles County Science Fair that was held at the Pasadena Convention Center.  Read more here:  http://pasadenanow.com/pasadenaschools/pasadena-unified-students-excel-at-the-los-angeles-county-science-fair/
YOU DID IT!  500 lbs of Food Collected!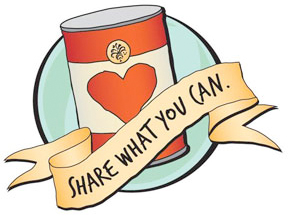 Thanks to the innovative vision of Haleema Abbasi, a sophomore at Beckman High School in Orange County, students brought canned food to steady their project boards and dropped off their cans at the LA Food Bank collections bins during take-down.
We are thrilled to announce that your generous contributions helped the 2015 LA County Scienc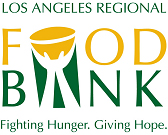 e & Engineering Fair donate over 500 pounds of food to the LA County Food Bank — providing 420 meals to needy families, children and the elderly.  We are pleased to be part of the The Science CAN! Initiative, transforming science fairs into food drives. We are looking forward to continuing this partnership next year, and thank you for your support!
Bigger and Better!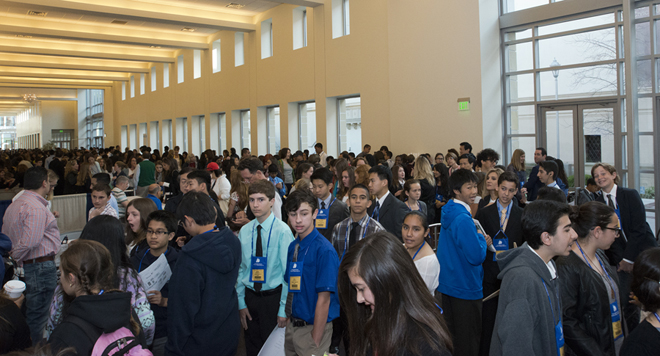 In 2015, as of result of increased teacher training, increased recruiting at under-served schools with high minority populations and the implementation of the Next Generation Science Standards, we have a 26% increase in schools attending the fair over 2014!
The number of teachers trained in implementing and properly facilitating student research has

increased 110%

, with over 200 teachers trained from 91 schools new to the fair, from all areas of the County.
With our strong emphasis on access and equity and teacher training, the number of public/charter schools (vs. private/parochial schools) registered so far this year has gone from 39% in 2014 to 74% for the 2015 fair, reversing the decline in public school participation that began with the recession.
To increase the amount of bright, innovative students entering from schools in impoverished areas, we implemented fee waivers and a sliding scale for high schools this year, allowing Title 1 schools and those with populations of 80% or more of under-represented minorities in science to enter the fair for free.
To make sure that all new students are adhering to federal and state safety standards for experimentation, we created an ONLINE pre-approval site for student proposing to work with tissues/cell lines, human subjects, vertebrate animals, hazardous materials and microbes. This has made the pre-approval process go swiftly, increasing pre-approval proposals for research from around 300 per year to 451 this year.
At our 2014 LACSEF Awards Ceremony, we were able to

double the cash awards

to the pre-recession amount of $100 for 1st place, $50 for 2nd place and $25 for 3rd place.  Students also received over $8,600 cash from Special Award donors in addition to scholarships, paid summer internships, special behind-the-scene tours of technology companies, summer research expeditions, induction to scientific societies and medals and certificates for 909 students.
Check here regularly for news articles on the 2015 Fair and its participants.  Also check us out on Facebook, Twitter and Instagram!
Website designed and maintained by Anne F. Maben –  afmaben@lascifair.org