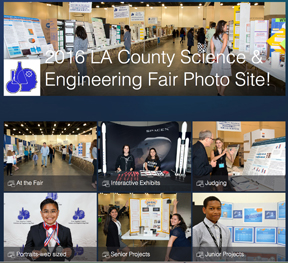 NEW! 2016 LA County Science & Engineering Fair Photo Site
Check out and download photos from the 2016 Fair here:
Thanks for a Successful 2016 Fair!!

A successful science fair project does not have to be expensive or even terribly time-consuming. However, it does require some planning and careful thought. To help you to choose, design, experiment, analyze and display your research, the Science Fair has specific resource pages that will take you through the process step by step.
So What Can I Get Out of a Science Fair Project       

Besides

a Good Grade?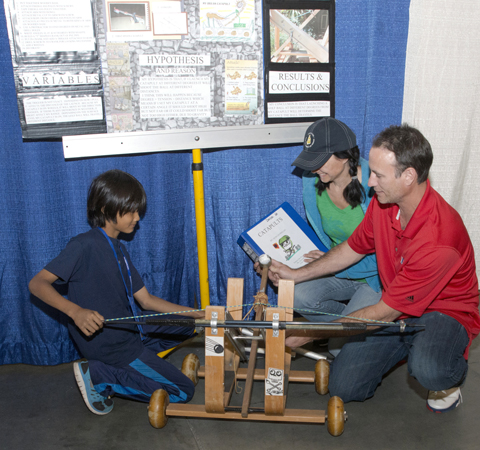 Discover Something Cool…If you pick a topic that you are truly interested in, you'll always learn something new and have fun doing it.  If it's a topic you are passionate about, the project won't seem like work. You'll also be doing real research in the real world, sometimes resulting in important discoveries.  Occasionally, a project becomes the focus for a whole career – how cool is that?
Develop New Skills… When you practice the skills of investigation, experimentation and invention, you'll become better at all your science classes. These days, science is not done in an ivory tower by a lone scientist – collaboration is the key and you will enhance your ability to work with other students or researchers.  You'll get to use all your creative skills in designing a clear and engaging science fair display that will show your passion for your topic. The benefits of your project go way beyond learning science. You'll become more mature, more organized, and more confident.
Win Awards and Prizes… You may be looking for that 'A' in class and a nice award to frame but there is so much more a well thought out and executed project can give you!   If you take that project to a District, Regional, State or even International level, you have a chance to receive cash prizes, recognition, summer science expeditions and even scholarships. Simply being accepted to a regional fair makes you a better bet for college admission and should go on your college application.
Student Code of Conduct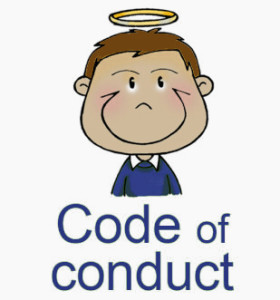 As a participant in the Los Angeles County Science Fair:
I will compete honestly and with good sportsmanship.
I will act with integrity and treat others with courtesy.
I will respect Fair volunteers, staff, and judges and their decisions.