Read the informational titles at the top of each photo in the slideshow below
wp_flash_img_show will display here (config: Project Displays)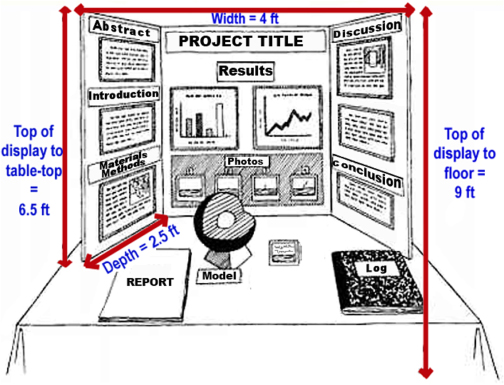 The display communicates the essential parts of the project in a quick, visual way. The display should be sturdy, free standing, colorful, simply illustrated, well labeled, and attractive.  The backboard may be made of pegboard, masonite, or plywood no larger than 76-cm (2.5 ft.) deep, a maximum of 122-cm (4 ft.) wide, and a maximum of 198 cm. (6.5 ft.) high (if placed on table) or 274 cm. (9 ft.) high (if placed on floor). (Of course, the display does not need to be this large). An easy-to-handle folding design is made from pegboard held together by three notebook rings between each section. Scrap wood can be covered with fabric for an attractive display.  Try requesting scraps at lumberyards, construction sites, hardware stores, or yardage stores before spending money. Foam core or folding backboards may also be purchased from science or office supply stores.
The title and section headings on the backboard should be clearly visible and readable from a distance of three to four feet. Use complementary colors as background and bright or dark letters for the titles of each section.
If using a computer to generate headings, use a boldface font of at least 18 points.  Cut paper strips and frame and/or mount the title of each section.  A photocopier can also be used to enlarge text for titles and section headings. The title should have the largest print on the display board and be neatly done.
Enlarge graphs and use color for the different lines or bars. Use photographs that are clear and sharp, with the correct exposure. A 5 x 7 photo creates a better display. There should be an explanation under each photo and graph.
Set the entire display board flat on the floor and arrange the various parts before beginning the final assembly.  Be certain all titles, graphs, photos, and text are lined up properly and in place before gluing them down. Use rubber cement instead of glue so pieces can be replaced if necessary.  Make sure the edges of the paper are glued down securely to the backing to prevent peeling or drooping later.  All this attention to detail will result in a display board that is attractive, easy to read and as neat as possible.
PLAN AHEAD—A GOOD DISPLAY TAKES TIME TO CREATE!