LA County Science Fair dates for 2016: March 17-19th
Click on the links below for more information on:
While you are at the fair, there are so many things to do and see we don't want you to miss anything!  We have put together specific sub-pages under this heading so that you can make the most of your visit.  The final schedule for all 3 days is below – make sure you take advantage of all the resources on our site so that you can have a wonderful experience.  It's coming up sooner than you think…
wp_flash_img_show will display here (config: default)
---
 Science Fair Check-in, Step-by-step
(Change video quality to "480p" at bottom right of screen for best viewing)
 Download: LA County Science Fair PPT 2015

 2016 SCIENCE FAIR SCHEDULE
THURSDAY, MARCH 17, 2016 – Project Screening and Check-in
2:00 – 9:00pm           Enter main doors of the Exhibit Hall (off of Green Street)
Bring the following paperwork to the project screening area: 
(For registration, students must arrive no later than 8:45pm)
3:00 – 8:30pm           Student Workshop- Tips for Interview Success (recommended)
(After you set up your project display board in the Exhibit Hall, you may attend a 20-minute workshop in Ballroom H on how to practice and prepare for interview success.  Workshops will be offered every half hour beginning at 3:00 P.M.
9:00pm                       Registration closes
FRIDAY, MARCH 18, 2016 – Judging and Student Interviews
Seniors only
– bring y
our signed

ISEF Certification & Continuation Forms

, for the judges!
Restaurants open for breakfast at Paseo Colorado, across from Convention Center

10:00am – 5:00pm   Interactive Exhibits
Interactive Exhibits will be located in the Ballroom, for better access to students. Hands-on activities for students, parents, teachers and visitors.
8:30am                         Arrive at Exhibit Hall A/B (Professional dress recommended!)
(Students get stickers on items brought for judging only)
8:50am                         Students permitted to enter the Exhibit Hall A/B
9:00am – 11:45pm     Judging and Interviews– Exhibit Hall A/B, setup items for judging
EVERY STUDENT MUST BE PRESENT
There are scheduled interviews and free time for students to attend the Interactive Exhibits in the Conference Center
11:45 – 1:30pm          Lunch (1 hr./person) begins (staggered by categories, every 15 min)
(Food is available for purchase from Starbucks inside the Pasadena Convention Center or at various restaurants across the street at the Paseo Colorado Shopping Center.)      
1:30 – 3:30pm           Afternoon Judging – Exhibit Halls A/B
EVERY STUDENT MUST BE PRESENT AT THEIR PROJECT BOARD FOR THE DURATION

3:30pm or earlier      Students are dismissed by their judging panel and must exit exhibits.
3:30pm – 5:30 pm     Judges determine Place winners, Special Awards (no students)

SATURDAY, MARCH 19, 2016
10:00am – 4:30pm   Exhibits Open to the Public – Exhibit Halls A/B
Interactive Exhibits – for students, parents, teachers and visitors- Ballroom
4:30 – 5:45pm           Early Project Removal (prior to Awards Ceremony)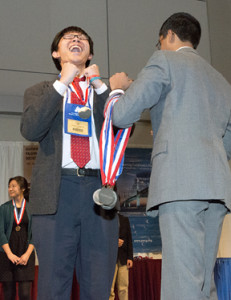 6:00 – 9:00pm           Awards Ceremony – Civic Auditorium
9:00 – 10:00pm         Project Removal
Any Projects not removed by 10:00 P.M. will be discarded by the Pasadena Convention Center Staff.
See you at the Fair!