We congratulate the 2013 Los Angeles County Broadcom MASTERS Semi-Finalists!
Our seven local winners in the nation's premier middle school science fair are part of 300 semi-finalists vying to become one of the top 30 finalists in the Broadcom MASTERS Competition. Finalists will earn a trip to Washington , D.C. and many other opportunities and prizes (see below.) We wish them luck!
Francesca C. Legaspi (Grade 6)
Incarnation School, Glendale, California Building Stability during Earthquakes  
David Michael Duncan (Grade 7)
Mirman School, Los Angeles, California
What's in the Food We Eat? Identifying Genetically Modified Foods
Using DNA Analysis
Ethan Michael Uetrecht (Grade 8)
Palos Verdes Intermediate School, Palos Verdes Estates, California
The Effects of Greywater on the Development of the Pieris rapae Butterfly
Dennis Ping Chen (Grade 8)
Ridgecrest Intermediate School, Ranchos Palos Verdes, California
Project-TIM: Identifying the Effects of Thermal Interface Material Relative to the Synthetic Performance of a Silicon Die
Jun Hyuk (Joseph) Oh (Grade 8)
South Pasadena Middle School, South Pasadena, California
Super Solar Cells
Daniel Stephan Yacoubian (Grade 7)
St. Gregory A & M Hovsepian School, Pasadena, California
A Novel Method of Improving Home Solar Panel Output: A Fundamental Concept with Profound Implications
Bridget Jeannette Macmillan (Grade 7)
St. John Fisher School, Rancho Palos Verdes, California
The Effect of Biodegradable Dye on the Evaporation Rates of Salt Water
ATTENTION:
Jr. Division students that received 1st, 2nd or 3rd place ONLY in their Category at the 2012 LA County Science Fair are qualified to enter. 
Students are qualified received an email to participate in; please be sure to register before the deadline, June 17, 2013.
All documents that are included in the nominee packets are accessible via this url link: https://apps2.societyforscience.org/bcm13/nominees.cfm
For detailed information, go to this url link:  https://apps2.societyforscience.org/bcm13/nominees.cfm?tmtCookieSend=1
In order for you to access your online application, you will need to enter access the email you were sent for passwords and directions.

About the Broadcom Masters
The Broadcom Masters Competition, the nations premier science, technology, engineering and math competition for middle school students will be judged during the summer.
Middle school students are nominated to compete in the Broadcom MASTERS by Society for Science and the Public (SSP)-affiliated science fairs held during the school year. The 1st Place winner in each Junior Division category will automatically be considered to represent Los Angeles County at the Broadcom Masters Competition.  Nominees enter the competition by completing an application explaining their science project and demonstrating their use of STEM principles – science, technology, engineering and math – in the development and presentation of their project. From among the national entrants, 300 semi-finalists are selected, including 30 finalists.
The Los Angeles County Science Fair is pleased to announce participation in the Broadcom Masters competition, 2013
Download the attached Broadcom MASTERS overview and photo gallery that outlines the process for both students and teachers including key program dates and the alumni "words of wisdom".
Key 2013 Broadcom MASTERS dates
March 23, 2013 – LA County Science Fair will announce Jr. Division qualified nominees
June 17 – Deadline for entries to be completed and submitted to (Society for Science and the Public)
Mid August- Semi-finalists will be announced by (Society for Science and the Public)
August 27– Finalists will be selected, announced, and awarded an all expense paid trip for both the student and one parent to Washington DC to attend the Finals (Society for Science and the Public)
September  27 to October 2– Finalist Week in DC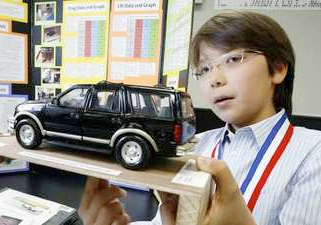 South Pasadena student and the  LA County Science Fair Junior Division winner, Raymond Gilmartin, took home the top prize and a $25,000 educational scholarship at the ceremony in Washington, D.C. on October 2, 2012.
Elan Filler of Rancho Palos Verdes also represented LA County as one of the top 30 finalists.  Learn more about both students and their projects and goals below.
Broadcom and SSP annually announces the top 300 national semifinalists on August 15th and the 30 finalists are announced on August 29th, 2012. The announcements are posted online at www.societyforscience.org/masters.
Finalists travel with one parent or guardian to an all-expense paid trip to Washington, D.C. from September 28th to October 3rd to compete in the program finals.  During this time, finalists present their original science fair projects and compete in team-based hands-on science and engineering activities. Finalist week tests their knowledge of science and engineering, problem-solving, teamwork and leadership skills. Top finalists receive  awards, prizes and scientific excursions.
2012 Finalist: Elan Filler, 14
Rolling Hills Country Day School; now a freshman at Palos Verdes High School
Project Title: What is the Environmental Source of Cryptococcus gattii?
Project Background: As a child, Elan survived leukemia. Her treatment weakened her immune system, and she suffered from multiple infections as a result. Infections have interested Elan ever since. When she heard her father, a physician, discussing a patient infected with Cryptococcus gattii, she wanted to know more. She learned that C. gattii, a fungus, can cause life-threatening pneumonia and meningitis.  But no one knew where patients in California contracted the fungus. She made it her mission to locate the environmental source of the infection.
Tactics and Results: Elan learned that a C. gattii outbreak in Canada had been traced to local trees. She hypothesized that C. gattii also grew on trees in her home state of California. A physician provided her with the names of major cross streets near the homes of three anonymous patients infected with the fungus in Los Angeles and Dublin, California. Elan took samples from trees in these locations, as well as samples of soil at the base of the trees. Then she grew and analyzed the samples in a laboratory in hopes of finding evidence of C. gattii. After more than a month of searching, she discovered the fungus on a sweet gum tree and in the soil surrounding a Canary Island pine, both in south-central Los Angeles. "This indicates these trees are the environmental sources of infection," Elan says. "This research is highly significant because identifying the environmental source of a serious infection enables doctors to make earlier diagnoses and treat patients sooner. Furthermore, high-risk patients should be advised to avoid traveling or gardening in areas endemic for C. gattiii."
Other Interests: Elan plays violin with a community orchestra and also enjoys playing classical piano. She volunteers with the organization People to People International, and recently raised $1,500 worth of supplies to donate to AIDS orphans in South Africa.
Career of Interest: Epidemiologist. "While researching my project, I came across information about the Epidemiology Intelligence Service of the Centers for Disease Control and Prevention. I want to become an EIS officer to search for and discover the source of an infectious disease outbreak – like a detective finding a microscopic criminal on the loose."
2012 Finalist: Raymond Gilmartin, 14
South Pasadena Middle School; now a freshman at South Pasadena High School
Project Title: Spare the Environment, Spoiler the Car: The Effect of Rear Spoilers on Drag and Lift
Project Background: Raymond is a self-described "car enthusiast" – he subscribes to three auto magazines and loves watching car shows on TV. Lately, he noticed that many new SUVs have rear spoilers. He knew racecars used spoilers to create downforce, but he wasn't sure what benefit they'd have on everyday vehicles. Digging deeper, he learned that spoilers can reduce drag. That sparked his interest. Raymond had recently watched a documentary that discussed the importance of improving gas mileage in order to decrease carbon emissions and halt climate change. Reducing drag can improve gas mileage, he learned. Raymond decided to find out how a rear spoiler affects drag and lift in SUVs.
Tactics and Results: Raymond carved two spoilers from balsa wood to fit a model SUV. He tested the spoilers in a six-foot wind tunnel that he built at his house, using a force sensor to measure drag and lift on the model car. Raymond compared several conditions – a large and a small spoiler, attached at different angles to the car's roof. He hypothesized that a level spoiler would increase drag compared to a car without a spoiler, but would not affect lift. His experiment confirmed that hypothesis. He also predicted that angling the spoiler would decrease drag and increase lift. His experiments suggested an angled spoiler did decrease drag, but results were inconclusive for lift. Finally, he found that increasing the size of the spoiler increased drag, but again was inconclusive for lift. He concluded that some rear spoilers can reduce drag without increasing lift, and may improve gas mileage in SUVs.
Other Interests: Raymond loves to run. He's played the violin for eight years and has performed in solo concerts and orchestra performances. Recently, he won a $1,000 scholarship from Raytheon's MathMovesU program for a video he made exploring the connections between string instruments and math.  "Even in music, math and physics rule!" he says.
Career of Interest: Automotive engineer. As a committed car fan, Raymond can't imagine a more perfect job than designing new automotive technologies. "I would like a career that combines engineering, cars, science, and physics," he says. "I would love to work with cars everyday and to engineer them so they meet our needs."
Pasadena Sun: Spoiler alert: South Pasadena 13-year-old designs test to help SUVs save fuel
BSN: Ford Expedition Model Leads to Science Award for Middle Schooler