Seven Students from LA County are 2014 Semi-finalists!
The following Junior Division students have been chosen as one of 300 top projects in the National Broadcom MASTERS science competition. Semifinalists were selected from more than 2,054 applicants after each application received three independent readings and evaluations by distinguished scientists, engineers and educators. On September 17 we will learn if any of our wonderful students will be one of 30 finalists going to compete in Washington, D.C.
David Michael Duncan (Grade 7)
Mirman School, Los Angeles, California
What's in the Meat We Eat? Detecting Antibiotics in Beef, Pork and Chicken from Grocery Stores in an Economically Diverse City
Isaiah Logan DeWitt O'Neal (Grade 7)
Portola Highly Gifted Magnet Center, Tarzana, California
For the Venus Flytrap, Does Food Type Affect the Speed of a Trap's Closing and the Duration of the Trap's Closed State?
Sophia Marguerite Hewitt (Grade 8)
Portola Highly Gifted Magnet Center, Tarzana, California Inducing Cellular Senescence in Tetrahymena thermophila using
Epigallocatechin gallateto Shorten Telomeres: Can Green Tea Help Fight Cancer?
Aaron Kornfeld (Grade 6)
Weizmann Day School, Pasadena, California
Rolling Down a Hill
Benjamin Cheung Liu (Grade 7)
Richard Henry Dana MS, Arcadia, California
A Home-made, Microfabricated Lab-on-a-Chip Device for Urinalysis
Daniel Stephan Yacoubian (Grade 8)
St. Gregory Hovsepian School, Gelndale, California
Using a Car's Tailpipe to Create Electricity
Zoe Zawol (Grade 8)
Sierra Madre MS, Sierra Madre, California
Is the Cosmic Ray Flux Greater at Higher Altitudes than at Lower Altitudes?
About the Broadcom Masters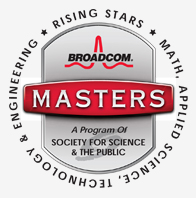 The Broadcom Masters Competition, the nations premier science, technology, engineering and math competition for middle school students will be judged during the summer.
Middle school students are nominated to compete in the Broadcom MASTERS by Society for Science and the Public (SSP)-affiliated science fairs held during the school year. The 1st Place winner in each Junior Division category will automatically be considered to represent Los Angeles County at the Broadcom Masters Competition.  Nominees enter the competition by completing an application explaining their science project and demonstrating their use of STEM principles – science, technology, engineering and math – in the development and presentation of their project. From among the national entrants, 300 semi-finalists are selected, including 30 finalists.
The Los Angeles County Science Fair is pleased to announce participation in the Broadcom Masters competition, 2014
Download the attached Broadcom MASTERS overview and photo gallery that outlines the process for both students and teachers including key program dates and the alumni "words of wisdom".
ATTENTION:
Selected students who are qualified (Jr. Division students that received 1st, 2nd or 3rd place ONLY) will receive a password in the nominee packet they receive at the awards ceremony from the Los Angeles County Science & Engineering Fair to participate; please be sure to complete the entire registration procedure before the deadline, June 18, 2014.
Key 2014 Broadcom MASTERS dates
September 17– Finalists will be selected, announced, and awarded an all expense paid trip for both the student and one parent to Washington DC to attend the Finals (Society for Science and the Public)
October 24-29– Finalist Week in DC
October 25 – Science and Engineering Project Showcase in Washington D.C.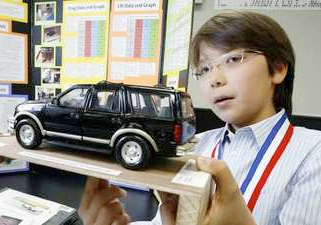 South Pasadena student and the  LA County Science Fair Junior Division winner, Raymond Gilmartin, took home the top prize and a $25,000 educational scholarship at the ceremony in Washington, D.C. on October 2, 2012.
Elan Filler of Rancho Palos Verdes also represented LA County as one of the top 30 finalists.  Learn more about both students and their projects and goals below.
Finalists travel with one parent or guardian to an all-expense paid trip to Washington, D.C.  to compete in the program finals.  During this time, finalists present their original science fair projects and compete in team-based hands-on science and engineering activities. Finalist week tests their knowledge of science and engineering, problem-solving, teamwork and leadership skills. Top finalists receive  awards, prizes and scientific excursions.