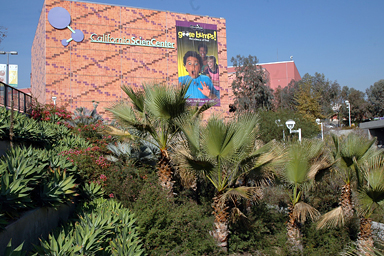 First, 2nd, and 3rd Place winners in each category from our fair are typically sent as representatives to the California State Science Fair.
The 2014 California State Science Fair will be held on Monday-Tuesday, April 28-29, 2014.  Last year, there were 1037 participants from 413 schools throughout the State who met in competition for awards totaling $50,000.

Click here to download the list of 2014 CA State Fair Designees & Alternates.  Students, your application is due April 2nd.
All activities and events will take place within the California Science Center, including its main building and the Wallis Annenberg Building.
Awards Ceremony for the State Fair, in the Big Lab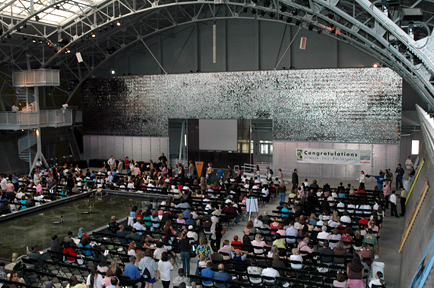 Directly following the LA County Science Fair, the list of student designees to the State Fair will be posted here.  Some of the high-scoring Honorable Mentions may also be selected to enter the State Fair and will be on this list.
Change settings on "cog" icon below to 720 p for best viewing

_____________________________________________________________
LA County Scores Big at the 2013 California State Science Fair!
ALEXANDER CHEN, a senior at Palos Verdes Peninsula High School, was named 2013 California State Science Fair Student of the Year and was presented with a $1,000 cash prize!  The project entry was titled "A Foldable Solar Panel with an Improved Hill Climbing MPPT Circuit." Alex's advisor was Mr Peter Starodub.  This award is presented to the high school senior who, in the opinion of the judges, best exemplifies the qualities necessary for success in science.
2013 CSSF Special Awards Winners: LA County

Diane Bui, an 8th grader at Portola Highly Gifted Magnet Center in LAUSD won the $500 Thomas G. Moore Award for Excellence in Electronics and Electromagnetics Studies. This award is given in honor of Mr. Moore who was a high school administrator and highly regarded and respected by the students with whom he worked.  Diane's project was entitled: "Eddy Currents Via Magnet in Motion."
Benjamin Y. Chen, an 8th grader at Chaparral Middle School in Walnut Valley received the $500 Raytheon Junior Achievement Award, presented by the Raytheon Asian Pacific Association (RAPA.)  This award is given to those projects which demonstrate the greatest potential with ability of achieving technological breakthroughs in mathematics, physics, and engineering. Benjamin's project was entitled: "1,2,3 …..? An Alternative Method of Cell Counting."
The 11th grade team of Stacey Dojiri and Kelly Woo of Palos Verdes Peninsula High School was awarded $1,500 for winning the South Coast Air Quality Management District Air Quality or Climate Change Award.  The Award is presented for the best project concerning air quality and/or climate change in each division. Stacy and Kelly's project was entitled: " The Response Of A Coastal Phytoplankton Community To Hyperion Treatment Plant's Effluent: An Environmental Study."
2013 CSSF

Category Awards Winners: LA County
Aerodynamics/ Hydrodynamics: Junior Division
Raul Lopez, Grade 8, Honorable Mention
Effects of Altitude on Drones
Advisor: Mr. Albert Lopez
School: Fremont Academy of Engineering and Design, Pomona
Alternative Energy: Junior Division
Erika Y. Hathaway, Grade 8, Honorable Mention
A Brighter World: Evaluation and Enhancement of Solar Conversion Devices
Advisor: Mrs. Andrea Acres
School: Ridgecrest Intermediate School, Rancho Palos Verdes
Applied Mechanics & Structures:  Senior Division
Makayla J. Campbell, Grade 10, Fourth Place
Does the Direction of a 3D-Print Matter?
Advisor: Mrs. Laura Kaufman
School: Flintridge Preparatory School, La Canada Flintridge
Kaylie A. Ward, Grade 12, Honorable Mention
CSI: Comprehensive Spatter Investigation
Advisor: Dr. James Vieceli
School: St. Monica Catholic High School, Santa Monica
Behavioral & Social Sciences: Junior Division
Aria J. Empakeris, Grade 8, Honorable Mention
Four Eyes AND 4.0 GPA? The Study of Whether People with Glasses Are Perceived to be More Intelligent and Less Attractive
Advisor: Ms. Debbie Margulis
School: St. Martin of Tours School, LA County
Behavioral & Social Sciences: Senior Division
Ruwanthi N. Ekanayake, Grade 9, Second Place
Determining Correlations between Indicative Dominant Sense and Comprehension Aptitude
Advisor: Mr. Peter Starodub
School: Palos Verdes Peninsula High School, Rolling Hills Estates
Edie Cote, Grade 12, Fourth Place
Angelina S. Hwang, Grade 11, Fourth Place
Ivan S. Morales, Grade 12, Fourth Place
The Effects of Age, Gender, and the Plastic Bag Ban on Consumer Bag Choice at Santa Monica Grocery Stores
Advisor: Mr. Benjamin Kay
School: Santa Monica High School, Santa Monica
Biochemistry/ Molecular Biology: Junior Division
David M. Duncan, Grade 7, Fourth Place
What's in the Food We Eat? Identifying Genetically Modified Foods Using DNA Analysis
Advisor: Mr. Norman Brennan
School: Mirman School for Gifted Children, Los Angeles
Biochemistry/ Molecular Biology: Senior Division
Sean E. Limfat, Grade 12, Honorable Mention
Alexander Lin, Grade 11, Honorable Mention
Michael Shi, Grade 11, Honorable Mention
Project T.A.B.I. (The Automated Biodiesel Invention): A Study of the Production and Benefits of Biodiesel
Advisor: Ms. Barbara Young
School: Arcadia High School, Arcadia
Chemistry: Junior Division
Bridget J. Macmillan, Grade 7, Third Place
The Effect of Biodegradable Dye on the Evaporation Rates of Salt Water
Advisor: Mr. Derek Lefkowith
School: St. John Fisher, Rancho Palos Verdes
Chemistry: Senior Division
Alexander L. Chen, Grade 12, Honorable Mention
A Foldable Solar Panel with an Improved Hill Climbing MPPT Circuit
Advisor: Mr. Peter Starodub
School: Palos Verdes Peninsula High School, Rolling Hills Estates
Environmental Engineering: Junior Division
Anna D. de la Rosa, Grade 7, First Place
An Ap'peel'ling Purifier? Using Banana Peels to Remove Copper from Water
Advisor: Ms. Alexandra Gonzales
School: Our Lady of Refuge School, Long Beach, Los Angeles County
Environmental Science: Junior Division
Owen C. Keith, Grade 8, Fourth Place
The Effect of Biodiversity on Ecosystem Health
Advisor: Mrs. Lisa Moore
School: South Pasadena Middle School, South Pasadena
Environmental Science: Senior Division
Stacey S. Dojiri, Grade 11, Third Place
Kelly Y. Woo, Grade 11, Third Place
The Response of a Coastal Phytoplankton Community to Hyperion Treatment Plant's Effluent: An Environmental Study
Advisor: Mr. Peter Starodub
School: Palos Verdes Peninsula High School, Rolling Hills Estates
Brian Zhang, Grade 9, Fourth Place
Analyzing a Method to Measure the Health and Stability of the Salt Marsh by Various Biotic and Abiotic Factors
Advisor: Dr. Kiersten Darrow
School: Palos Verdes Peninsula High School, Rolling Hills Estates
Mammalian Biology: Junior Division
Abdulkarim J. Alamad, Grade 8, Third Place
Breastmilk + Baby = Autism? Debunking the Theory of Breastmilk as a Contributing Factor to Autism
Advisor: Sr. Abir Itani
School: Al-Huda Islamic School, Hawthorne
Rileigh E. Pot, Grade 7, Honorable Mention
Degradation of Hair Strength over Time
Advisor: Ms. Kathleen Robinson
School: CHIME Charter School, Woodland Hills
Mammalian Biology: Senior Division
Vick C. Liu, Grade 9, Second Place
A Completely Home-Made Microfabricated Device for Blood Cell Sorting and Morphology Analysis
Advisor: Dr. Robin Liu
School: Flintridge Preparatory School, La Canada Flintridge
Braeden C. Benedict, Grade 10, Honorable Mention
Development of an Electroencephalography (EEG) Device for Evaluation of Mild Traumatic Brain Injury
Advisor: Mr. Peter Starodub
School: Palos Verdes Peninsula High School, Rolling Hills Estates
Materials Science: Junior Division
Zack B. Hirschhorn, Grade 7, First Place
The Most Force Absorbent Material
Advisor: Mr. Eric Hartung
School: Pressman (Rabbi Jacob) Academy, Los Angeles
Mathematics & Software:  Junior Division
Aaron O. Feldman, Grade 7, First Place
Saving Lives One Swimmer at a Time
Advisor: Mr. Eric Hartung
School: Pressman (Rabbi Jacob) Academy, Los Angeles
Microbiology (General): Senior Division
David M. Zimmerman, Grade 12, Second Place
Site-Directed Mutagenesis of S. oneidensis MR-1: A Novel Strategy for Genetic Engineering in Recalcitrant Microorganisms
Advisor: Dr. Aimee Palmitessa
School: Brentwood School, Los Angeles
Microbiology (Medical): Junior Division
Luca V. Mendoza, Grade 8, Honorable Mention
Can Electricity Kill Bacteria?
Advisor: Ms. Jana Wiener
School: Crossroads School for Arts and Science, Santa Monica
Pharmacology/ Toxicology: Senior Division
Easun P. Arunachalam, Grade 12, Third Place
Examination of Quorum Sensing Mechanisms in Glioblastoma Multiforme
Advisor: Dr. Michael Barish
School: Crescenta Valley High School, La Crescenta
Physics & Astronomy: Senior Division
Jamie R. Lesser, Grade 12, First Place
Kinetic Monte Carlo Simulation on Atomic Diffusion on a Cu-Sn Surface
Advisor: Mr. Peter Starodub
School: Palos Verdes Peninsula High School, Rolling Hills Estates
Product Science (Biological): Junior Division
Sage A. Strieker, Grade 8, Third Place
Put the Fire Out: Choose an Antacid That Stops Your Heartburn
Advisor: Mrs. Christy Novak
School: St. Timothy School, Los Angeles
Maryam Bharucha, Grade 8, Honorable Mention
The Race to Relief: Which Aleve Pill Dissolves the Fastest?
Advisor: Mrs. Selena Khan Abdullah
School: Institute of Knowledge, Diamond Bar
Product Science (Physical): Junior Division
Emmanuelle C. Scott, Grade 8, Third Place
How Do the Ingredients in Nail Polish Affect Its Properties?
Advisor: Ms. Martha Jimenez-Corsi
School: Blair International Baccalaureate School, Pasadena
Hakan S. Alpay, Grade 8, Fourth Place
Efficacy of Light Shelves?
Advisor: Mrs. Darshana Shah
School: Portola (Gaspar de) Middle School, Tarzana
Zoology: Junior Division
Mounir J. Saunders-Newton, Grade 7, Third Place
How Camouflage Affects the Predatory Behavior of Praying Mantids
Advisor: Mrs. Laura Kaufman
School: Flintridge Preparatory School, La Canada Flintridge
Zoology: Senior Division
Lauren J. Lee, Grade 9, Second Place
The Effects of Pressure on the Spawning and Hatching Processes of Haliotis rufescens
Advisor: Mr. Peter Starodub
School: Palos Verdes Peninsula High School, Rolling Hills Estates, Los Angeles County
Robin Park, Grade 12, Honorable Mention
Discrimination in Ants: Effects of Varying Territorial Distribution on Cohabitation of L. humile and P. imparis
Advisor: Mrs. Michaele Scheerle
School: Palos Verdes High School, Palos Verdes Estates