For the third year, along with our diverse Interactive Exhibits to inspire and entertain students and the public at the Fair, the 2014 Los Angles County Science Fair is co-sponsoring a very special event: A Mini Maker Fair, in its own exhibit hall next to the Science Fair.  The Mini Maker Faire is open from 10am – 5pm on both Friday and Saturday, March 28th and 29th, and is open to all Science Fair participants, judges, volunteers and the general public.
Click Here to see loads of photos from "Trash for Teaching" (T4T) taken at the 2013 Mini Maker Faire!
Click here  to see a slideshow of the 2012 LA County Science Fair Mini Maker Faire on Shutterfly!

wp_flash_img_show will display here (config: Exhibits)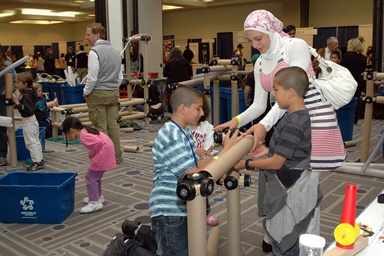 So, what IS a Maker Faire?  A Maker Faire is an exciting and sometimes life changing event. It's about people and their passions! "What do you make?" is as common a greeting as "Hello, how are you?" at a Maker Faire.  This is your opportunity to meet some very special people who have spent time creating some of the most interesting and unique things you will ever see. Most Makers are self-learners who have taught themselves the skills necessary to achieve their personal dreams and visions. They are excited to share what they have learned and show you the magic of Making!  These interactive exhibits will spark the imagination of young and old alike.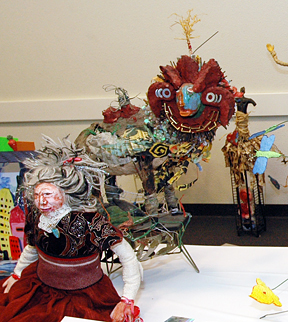 What if you had a  fresh source of original of fun ideas? This is how the Maker Faire will enhance and support the Science Fair.  It's all about sparking that initial idea for a science fair project. It's the creation of an idea-generating experience for students to help guide them in this first critical step.  A gathering of "Makers" whose passion (not competition) is the driver for creation, frees students to explore new ideas and applications. The Faire also allows direct contact with these practical explorers and inventors.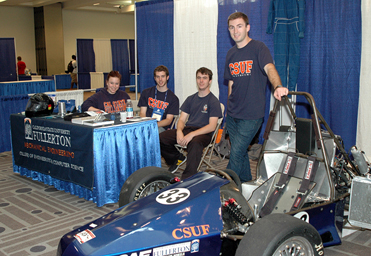 Please check out the videos and resources about Maker Faires in other cities, to see how really exciting this new addition to the LA County Science Fair can be.  Be sure to make time between interviews and before the awards program to visit and interact with the Makers!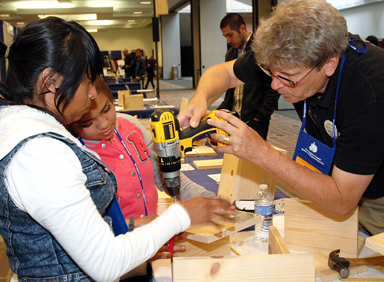 The Mini Maker Faire provides a venue for Makers to show examples of their work and interact with others. Many Makers tell us that they have no other place to show what they do.  It is often out of the spotlight of traditional art or science or craft events. "Do-It-Yourself" (DIY) projects are often invisible in our communities, taking place in shops, garages and on kitchen tables. So the goal of the Mini Maker Faire is to make visible the projects and ideas that we don't encounter every day.  Maker Faire, like any fair, might include traditional forms of Making but it is primarily designed to be forward-looking, exploring new forms and new technologies.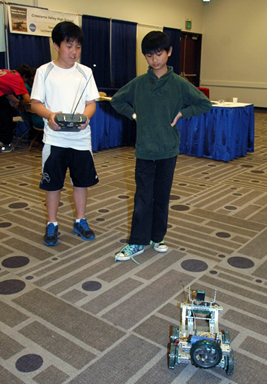 A Maker Faire is also participation and sharing. Many Makers develop exhibits with hands-on activities. Others bring unusual objects that we don't see everyday, and we will feature them prominently. All of that creates a stimulating event!
Be sure to make time between interviews and on Saturday, before the awards program, to visit and interact with the Exhibits!
Maker Faire on Facebook
"How Maker Faire Changed My Life" – CNN interview with 14-year-old Ben Hylak after being invited to the White House, talking about his transformative experience at Maker Faire after battling a life-threatening illness.
"We are ALL Makers" – TED Video Talk by Dale Dougherty