Click here to be directed to the INTEL International Science and Engineering Fair (ISEF)
The 2014 LA County Science Fair Intel ISEF FINALISTS
ÉLAN FILLER, 16, from Palos Verdes High School in Palos Verdes Estates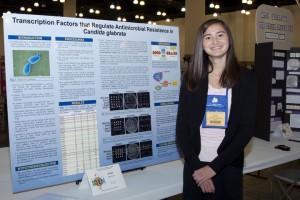 Élan is the Sr. Division Sweepstakes Winner for the 2014 LACSEF and also placed FOURTH in the huge Senior category of Microbiology at the CA State Science Fair. Élan's Project "Transcription Factors that Regulate Antimicrobial Resistance in Candida glabrata, " studied the fungus Candida glabrata, which is part of the normal human flora. In hospitalized patients with weakened immune systems, the fungus can enter the bloodstream from the GI tract and cause a serious, frequently fatal infection. Patients infected with C. glabrata are treated with the antifungal drug, Caspofungin, but some strains are resistant. Her hypothesis was that C. glabrata has specific transcription factors that enable it to resist antimicrobial peptides and Caspofungin. By studying 91 transcription factor mutants, Elan was able to find that the Spt8-Ada2-Gcn5 complex plays a key role in governing the ability of C. glabrata to resist both antimicrobial peptides and Caspofungin, and is a promising target for new antifungal drugs.
PETRA LUNA GRUTZIK, 18, from Redondo Union High School in Redondo Beach
Petra won First Place in Sr. Division Behavioral/Social Science at the 2014 LACSEF. Petra also placed FIRST in Zoology at the CA State Science Fair with her project: "Linking Expression and Function of FoxP2 in Adult Songbirds Using Operant Preference Testing." Here research focused on mutations in the human gene, FOXP2, which causes severe speech and language disorders in humans. She studied the functional relationship between the transcription factor FoxP2 by looking how the mutation impacts on song quality of adult male zebra finches, whose song learning parallels human speech learning and conspecific communication in adulthood. Overall, these tests helped us understand the role of FoxP2 in communication between songbirds and thus the significance of this gene in typical and atypical human speech and its relationship to human language disorders.
ISEF Category Award in Behavioral and Social Sciences: Second Award of $1,500
As a top category winner, Petra will also having a Minor Planet named after her!
Special Award of $500 from the American Psychological Association
The American Psychological Association is the largest scientific and professional organization representing psychology in the United States. APA is the world's largest association of psychologists, with nearly 130,000 researchers, educators, clinicians, consultants and students as its members. APA's mission is to advance the creation, communication and application of psychological knowledge to benefit society and improve people's lives.
VICK CHEUNG LIU, 16, from Flintridge Preparatory School in La Cañada Flintridge.
Vick took FIRST PLACE in Sr. Division Animal Biology at the 2014 LACSEF and placed FIRST in Sr. Division Mammalian Biology at the CA State Science Fair. Vick's project: "A Microfluidic Device for Blood Separation and Cell Morphology Analysis using MicroVortex Technology"was to develop a fully integrated microfluidic device that can be used to automatically separate human blood cells and perform cell morphology studies on a chip. The device was designed based on acoustic microstreaming and hydrodynamic separation principles to separate Red Blood Cells from White Blood Cells. Acoustic microstreaming was shown superior advantages over the other techniques: 1) no cell clogging issues; 2) no moving parts; 3) simplicity; 4) easy to integrate and fabricate; 5) low cost; 6) high WBC separation efficiency. It is the first time this concept of MicroCentrifugation based on acoustic microstreaming has been demonstrated for blood separation and analysis.
ISEF Category Award in Engineering: Materials and Bioengineering: Third Award of $1,000
CHEYENNE NEWALLIS, 16, from San Pedro High School in San Pedro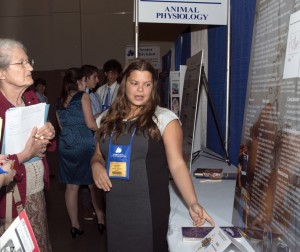 Cheyenne won Third Place in Animal Physiology at the 2014 LACSF with her project "The Breeding Season of the Cephaloscyllium ventriosum or Pacific Swell Shark in Captivity." Cheyenne studied the captive breeding cycle of the egg-laying Pacific Swell Shark to better understand their little known breeding cycle in the wild. The number of new egg cases laid by captive sharks at Cabrillo Marine Aquarium were observed, counted and tagged weekly and abiotic data taken. Results showed that the sharks laid eggs through the project study, from November through March and further research is needed to determine periodicity and make assumptions on their breeding cycle in the wild.
CALEB SMITH, 16, from Palos Verdes Peninsula High School in Rolling Hills Estates
Caleb also won FIRST PLACE in Sr. Animal Physiology at the 2014 LACSEF and took SECOND PLACE at the CA State Science Fair in the Sr. Zoology Division. Caleb's project: "Quantitative Analysis of the Role of Mitochondria in Drosophila melanogaster Lifespan," determined the role that mitochondria plays in Drosophila melanogaster lifespan. Caleb tagged the fruit flies' mitochondria with green fluorescent protein (GFP) and cameras gathered video data on individual flies and quantified the amount green fluorescence as well. Caleb found that mitochondrial quantity is indicative of lifespan in Drosophila melanogaster flies.
ISEF Category Award in Animal Sciences: Third Award of $1,000
SAMANTHA INDUNIL WATHUGALA, 17, Palos Verdes Peninsula High School in Rolling Hills Estates
Samantha also took FIRST PLACE in Sr. Division Physics at the LACSEF. Samantha's project: "Dependence of Silica Sol-Gel Thin Film Material Properties on Fabrication Methods" focused on high refractive index (n) thin film coatings are widely used in the field of optics, particularly decreasing film thickness. This can increase the sensitivity of biosensors, allowing detection of diseases in their early stages. In her research, she synthesized 175 thin films with varying the amount of water, aging time, spin speeds, temperature, and annealing times, and characterized them for thickness and high refractive index, with varying results. Samantha found that the relationships on many of the films between high refractive index and thickness were too complicated to model accurately without more data.
ISEF Category Award in Engineering: Materials and Bioengineering:

Fourth Award of $500
2014 ISEF Alternates
Stacey S. Dojiri & Kelly Y. Woo, Grade 12, from Palos Verdes Peninsula High School in in Rolling Hills Estates
The team placed FIRST in Ecology at the 2014 LACSEF and also took a FIRST PLACE in Environmental Science at the CA State Science Fair with their project "The Potential Impact of Hyperion Treatment Plant's Effluent on the Coastal Environment: Science Influencing Management." Stacy and Kelly's project aimed to minimize the potential negative effects, including harmful algal blooms, bacterial level increases, and harm to marine organisms that may occur during Hyperion Treatment Plant's effluent diversion in 2015. Their study tested whether HTP should divert in the spring or fall to minimize the probability of harmful algal blooms. It also determined the amount of chlorine needed to effectively kill bacteria in the effluent and the effect of both non-chlorinated and chlorinated effluent on larval red abalone development. Based on their research, HTP engineers have decided to reschedule the diversion for October and use 3ppm Cl2 to dose the effluent.
2014 INTEL ISEF OBSERVER
ZOË ZAWOL, 14, from Sierra Madre Middle School in Sierra Madre
Zoë is our 2014 Jr. Division Sweepstakes winner and recently took First Place in Physics and Astronomy in the Jr. Division at the CA State Science Fair with her project "Is the Cosmic Ray Flux Greater at Higher Altitudes than Lower Altitudes?" Zoë reasoned that at higher altitudes cosmic ray particles have a smaller chance of interacting with atmospheric molecules than they do at the increasingly denser atmosphere at lower altitudes. She converted an aquarium into a cloud chamber to detect cosmic rays and video taped the trails they left as they passed through a supercooled alcohol vapor cloud in the chamber. She tested the cloud chamber at different altitudes and found her hypothesis was correct.
wp_flash_img_show will display here (config: Intel 2013)
Intel ISEF Los Angeles:  May 11-16, 2014
The Intel ISEF is the world's largest international pre-college science competition and will be held in Los Angeles Convention Center this coming May! It is the premier global science competition for students in grades 9–12. In 2014,  more than 1,700 high school students from an expected 77 countries, regions, and territories will display their independent research and competed for over $3 million in awards. More than 400 finalists will receive awards and prizes for their groundbreaking work. Awards include 17 "Best of Category" winners who will each receive a $5,000 prize. The Intel Foundation also will award a $1,000 grant to each winner's school and to the affiliated fair they represent.
We encourage you to visit the Intel homepage to learn more and you can check out pictures from the 2013 event on Facebook.
(Change "cog" icon to "720p" & click full screen at bottom right of screen for best viewing)

2014 – 2015 INTEL ISEF CALENDAR
The 1st Place winner in each Senior Division category will automatically be considered to represent Los Angeles County at the Intel International Science and Engineering Fair.  The Los Angeles County Science Fair will send up to SEVEN  candidates to the 2015 ISEF.  As always, the decision of the judges is final.
Winter 2014 (mid February) Intel ISEF registration materials available online.
April 7, 2014 Last day to submit paperwork. There will be no exceptions.  Click here to access the finalists information page.

May 10-15, 2015 Intel ISEF 2014 will be held in

Pittsburgh, PA